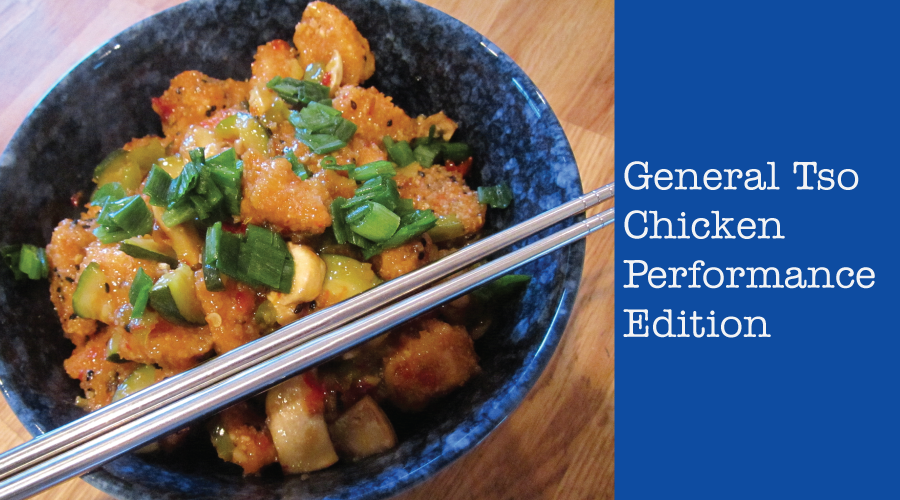 Athletes understand that nutrition is the cornerstone to the building of their physique and peak performance. However, like the rest of us, they crave the same fast, tasty, not so healthy indulgences, and often while they can afford the calories, are also left with hampered performances due to nutrient lacking food.
Here is a sample of how you can have your favorite meal and know you are doing your body some good. The chicken can be made in advance, as can the sauce – and you can throw it in a stir fry pan or wok with fresh veggies of your choice, as your brown rice cooks and have an incredible meal at home. Great for last minute guests, or to keep on hand frozen for quick preparation during a busy week.
Everyone loves General Tso Chicken. Eating it with brown rice, does not negate the bad found within the tasty morsels and savoury spicy sauce.
Here is our performance version which is not only healthier, but pretty damn tasty too!
This dish happens to be gluten, nut, soy, egg, and dairy free!

General Tso Sauce
• 1 tablespoon rice or potato flour
• 1/2 cup water
• 3 organic garlic cloves, diced finely
• 2 teaspoons grated or diced finely fresh organic ginger
• 1.5 tablespoons organic cane sugar
• 1 tablespoon freshly squeezed lemon juice
• 2 tablespoons faux soy sauce*
• 1/2 teaspoon red pepper flakes or prepared chilli paste
• 5-6 small dried chillies for extra kick!
Directions
-Make the sauce the night/day before. Why? Less prep day of and it tastes much better.
-In a mini-prep plus combine all ingredients accept the last 2.
-Transfer this to a small sauce pan and boil under medium high heat. Once at a boil lower the heat to medium and stir for about 3 minutes or until the garlic and pepper pieces have softened. Lower the heat to simmer.
-Combine the flour and water to make a light paste. Pour this into the saucepan with the other ingredients. Stir for about a minute and you should get a thicker sauce with suspended bits of chilli and garlic. Add the small dried chillies.
-Cool on counter and then put in an airtight container and store in refrigerator.
• 3 boneless chicken breasts
• ¾ cup of gluten-free rice crumbs
• ½ teaspoon of black sesame seeds or flax seeds (or a mix)
• ½ cup coconut milk
• sea salt to taste
• ½ teaspoon mixed fresh cracked pepper and cayenne (optional)
• Spray olive oil
Garnish with fresh diced green onions
Serve with veggies – pick a few seasonal greens along with mushrooms and any other vegetable that you enjoy and steamed brown rice.
Directions

-Chicken – freeze the meat and partially thaw overnight. Give yourself 10 minutes in the morning and while the meat is still a little frozen cut it into 0.5" squares. Refrigerate this with a little oil in a bowl and cover with plastic or a lid.
-Pour the coconut milk into a wide bowl. Soak chicken pieces for a minimum of 20 minutes or while you prepare the crumb mixture. Make sure both sides soak up some milk. Do not miss this step as this is what makes the nuggets tender.
-After 10 minutes preheat the oven to 400C.
-Add all the dry ingredients into the mini-prep plus and pulse very briefly. Pour ½ of the dry mix into the other mixing bowl.
-Prep the baking pan with foil.
-Now dip the chicken pieces in the dry mix. Make sure they are coated well and evenly. You can do 4 to 5 at a time. After the mixture looks a bit soggy, empty and put in a fresh amount of the crumb mixture.
-Place in the lined baking pan.
-Spray the tops of nuggets with olive oil to make extra crispy.
-Bake for 20 minutes. Let cool for 5 minutes.
-Start rice while the nuggets cook.
-Wok or stir-fry your veggies for a few minutes, add the nuggets and then add the sauce and coat everything well.
Serve, eat, and enjoy!